After Season 2 of Call of Duty Mobile wraps up, the COD Mobile Season 3 2023 will take players out of the heavy metal realm and into a massive party with the arrival of the Rush Multiplayer map, new quality-of-life updates, the HDR Sniper Rifle, plus new seasonal challenges, rewards, and a brand-new, blissful Battle Pass.
COD Mobile Season 3 2023 Rush update: Key Highlights
COD Mobile Season 3 2023: Battle Pass
Together with new Operator Skins, Weapon Blueprints, Calling Cards, and extra COD Points to use towards your subsequent Premium Pass or Store purchase, the RUSH Battle Pass offers both free and paid stuff.
Battle Pass Free Tiers
Call in the Wheelson Scorestreak, acquired at Tier 14, to send out a remote-controlled drone with an automatic grenade launcher. Get the HDR Sniper Rifle at Tier 21, a high-damage weapon that can take out adversaries from a great distance. A number of camos, Weapon Blueprints, and the Cordite — Swirly at Tier 50 are some other highlights of the free tier.
Premium Pass Tiers
To gain access to all of the Rush stream's content, including Operator Skins for hard-partying characters like Rivas — Neon, Darkwave, Domino — Tech Spectrum, and Stitch — Disciple, purchase the Premium Pass. Get a Blueprint with the new Season 3 weapon, the HDR — Iridescent Lines, to amp up the action with neon-colored blasters like the KRM-262 — Smiling Faces, the KN-44 — Candy Bracelet, and the Razorback — Treble in the Club.
Battle Pass Subscription
By purchasing a Battle Pass Subscription, you can join the Ground Forces and receive additional awards each season, a 10% increase in player and weapon XP, as well as a few 10x crate pull discounts. The Zane — Miasma Operator Skin, the BK57 — Music For Life Weapon Blueprint, and the Backpack 3 — DJ's Bass are among the Season 3 Ground Forces awards.
COD Mobile Season 3 2023: Multiplayer updates
New Multiplayer Map: Rush
With the new multiplayer map Rush, a business that specializes in the fast-paced competitive version of the game where teams must maneuver through inflatable barriers and other obstacles in their pursuit of the opposition, you may put your speedball talents to the test.
Operators will engage in skirmishing throughout the arena, which comprises an inner and an outside field, the gift shop, and the parking lot on this medium-sized map. As you weave between the numerous obstacles in the obstacle course, use ramps to get above your opponents and practise flanking on the ground.
Quality-of-Life Updates: Single Player Map Training, Safe House
Single Player Map Training: With the new customizable Training, you can gain a completely new perspective on ranked multiplayer maps. With a variety of options at your disposal, select your map and load in alone. Use the advantages of Gunsmith to experiment with alternative weapon configurations, add opponent bots and modify their difficulty, turn on special features like infinite ammo and invisibility, and so forth. Create the optimal setting to master the map by using these options.
Safe House: A development of the existing player profile, the Safe House transports you to a secret bunker where you can choose to show off your favorite Operator, Weapon, and Vehicle Skins to other players as well as your most recent achievements and other profile information.
New Events in COD Mobile Season 3 2023
Blast Eggs, Get Rewards in the Easter Battle Royale Event
Battle Royale's destructible Easter Eggs can be found and destroyed for rewards. You can also earn tokens by defeating foes that you can give to Easter-themed NPCs in exchange for goodies. Throughout the event, steal the new Self-Redeploy item, which sends revive flights to bring back fallen Operators to the field.
Participate in brand-new Easter-related tasks to get extra rewards. Engage Egg Hunter: Try outsmarting your rivals with the Egg Hunter: Match Challenge, which gives Egg Hunter Tokens for your performance in Prop Hunt, and enter the fray to compete in Ranked Play and win Egg Hunter Tokens. The Epic Chopper – Dark Matter Weapon Blueprint and other things are available for purchase in the Egg Hunter Market using the tokens.
New Themed Event: Chromatic Feast
In this wild new event, players earn colorful bullets by completing various in-game actions; the more active you are, the more you'll acquire. Use this special ammo to capture control points around the map, each providing distinct strategic advantages and disadvantages. Capture as many control points as possible to earn the highest score. Earn new rewards for participating, like the JAK-12 — Waves of Harmony, Carver Butcher — Spaced Out, and Calling Card — Surveyor Master.
New Seasonal Challenges and Featured Events
Rush features new Seasonal Challenges and Events rewarding Operator Skins, Weapon Blueprints, Battle Pass XP, and more, including the new CR56 — GRD-11 signature attachment for the CR-56.
New Signature Attachment: Get the new CR56 — GRD-11 signature attachment for the CR-56. Check the in-game Events tab throughout the season for more info, including Daily Missions rewards and Monthly Login incentives.
Store Update: New Mythic Weapon Draw and more
New Mythic Weapon Draw: There's just one person worthy of wielding the Mythic QQ9 — Dual Kinetics, and that's the mysterious operative known only as Dusk. In this new Draw, get the chance to unlock both the Dusk — Drawing Dark Operator Skin and her new Mythic Weapon alongside other Weapon Blueprints and Skins.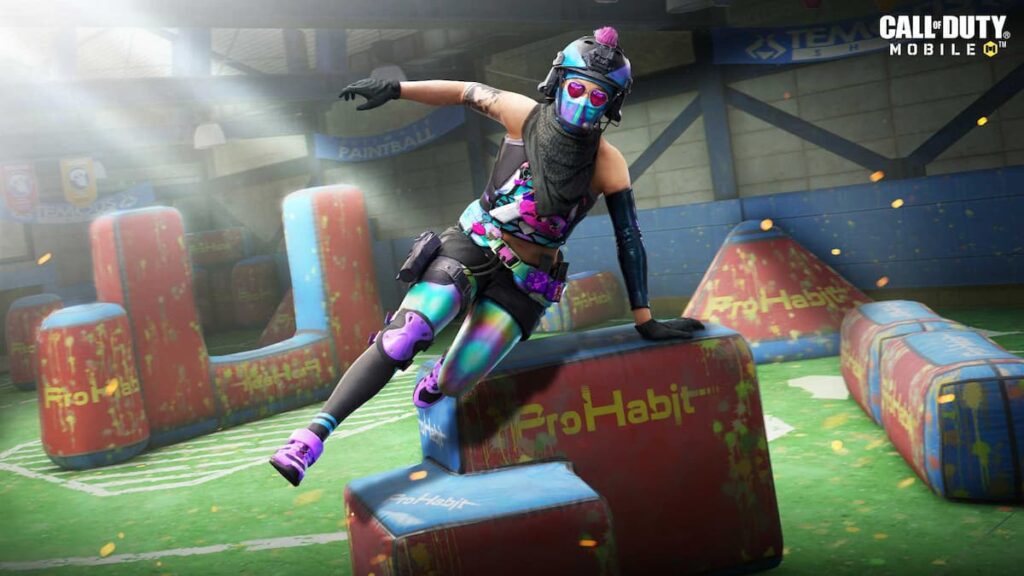 Other Season 3 Draws include:
Nikto — Gothic Bass: Nikto's got a new set of armor that he's more than ready to test in the field while equipped with the Legendary CR-56 AMAX — Twisted Visions, along with other Skins draped in purple and black.
Klepto: If it's not bolted down, Klepto takes it. Whatever the mission, she's never without her Legendary HDR — Persuasion, an ornate weapon made of high-density ceramics with a water-cooling system that helps to alleviate the high temperatures generated when firing.
Cipher — Tokyo Cruiser: Following the attack on New Vision City, Alexander "Cipher" McDaniels recovered a stash of weapons to prepare for the battles ahead, including his prized Legendary UL736 — Electric Light.
Battle Pass Vault: Season 3 gives players access to the Hunt Battle Pass, featuring Epic Operator Skins like Mace — Tombstone, Makarov — Splinter, Outrider — Amazonas, and Mara — Valkyrie. Stack your armory with Weapon Blueprints like the LK24 — Backwoods, the XPR-50 — Arachnophobia, the RPD — Carnivorous, and the GKS — Scion.
When will COD Mobile Season 3 2023 start
The new season will commence on March 30th, 2023 and the battle pass season will begin on March 31st, 2023. We hope you enjoy Season 3 2023 of Call of Duty Mobile!
We hope you find this COD Mobile Season 3 2023 about the Reawakening update article helpful. Then, please feel free to ask any questions in the comments section below, we'll make sure to reply to everyone. 
For more Mobile Gaming news and updates, join our WhatsApp group, Telegram Group, or Discord server. Also, follow us on Google News, Instagram, and Twitter for quick updates
The post COD Mobile Season 3 2023 Rush update: New map, modes, and more appeared first on GamingonPhone.