With its distinctive charm at the forefront, the mobile management simulation RPG Evil Hunter Tycoon celebrated its illustrious 3rd anniversary. Users from all over the world may expect a significant update for the brand-new PVE content World Boss. The game was once again highlighted as one of Google's suggested games on the 17th of March 2023 as a result of this change.
Defeat the World Boss to win amazing rewards in Evil Hunter Tycoon
Poison Hydra, hissing in the Lost Forest, and Lich King, murmuring spells beneath the Corrupted Abbey, need to be vanquished by the entire community. Every other week on Monday, Wednesday, and Friday, the two will show up. Avoid the boss for a bit if it becomes violent during the battle. It periodically becomes vicious to increase assault power and lessen the Hunters' ability to evade.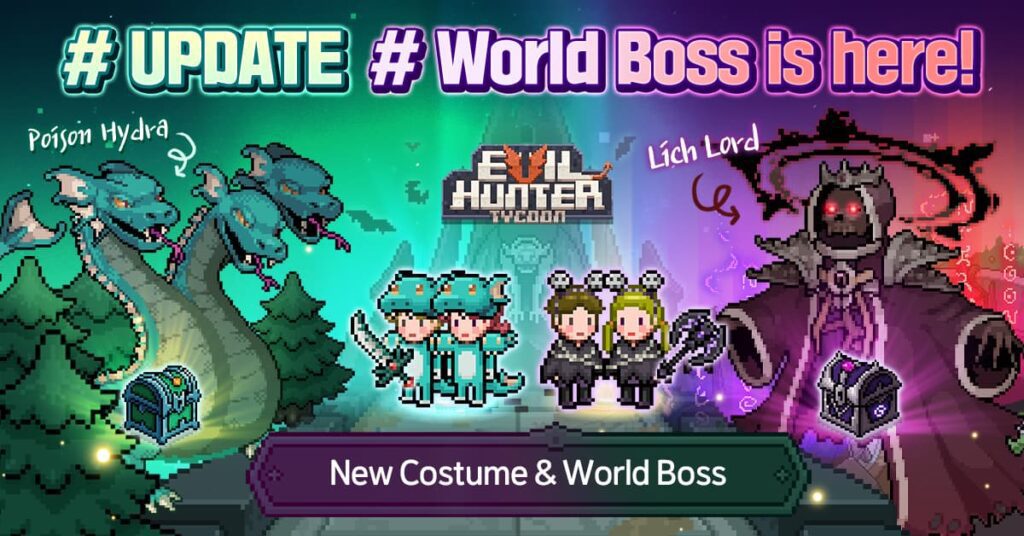 The hunters are accustomed to constant conflict. The Town Chief, however, rarely takes part in combat! It does imply that the conflict will involve many challenges and difficulties. The Chief's talent has a 30-second cooldown, so use it wisely. Out of a total of five skills, the Town Chief may select three. Find the ideal combination of skills for yourself, as the Chief's skill set may determine the future of the community.
At the end of this arduous struggle, a wonderful prize is waiting. Attempt an attack at least once because some of the goodies have never been seen before. When players assault more in the raid, they will be able to get more boss chests. Players can obtain "Boss Essence," a component of "Boss Weapon," in the Boss Chest. But if they are fortunate, they might immediately obtain the boss's weapon, so carefully examine the package.
Evil Hunter Tycoon brings generous benefits to celebrate its 3rd anniversary
All Town Chiefs will get Looting Owl Summon Ticket in honor of the 3rd anniversary celebrations with this update. The returning users will also receive a variety of benefits, including 800 Gems, 3 Awakening Crystals, 1 Legendary Hunter Invitation, and 15 Shiny Coins. Several community activities will also be held, including a birthday party costume contest and an event that awards gems based on the number of screenshots taken during World Boss battles.
Are you excited about Evil Hunter Tycoon celebrating its 3rd anniversary? Let us know in the comment section below!
For more Mobile Gaming news and updates, join our WhatsApp group, Telegram Group, or Discord server. Also, follow us on Google News, Instagram, and Twitter for quick updates.
The post Evil Hunter Tycoon celebrated its 3rd anniversary with special events and updates appeared first on GamingonPhone.