Mobile Legends: Bang Bang x Jujutsu Kaisen is the most popular event right now, but a few months earlier, MOONTON Games also introduced us to the Mobile Legends x Transformers event, which had a great response too and our most-awaited Transformers event is back again.
It will be available on March 22, 2023, on the original server, but before that, we will discuss some important things about this and how you can get an exclusive skin from this event. Now, without further ado, let's just jump into the skin section.
Six Transformers skins during the event
In this Mobile Legends x Transformers event, players can generally collect the skins of six different heroes:
Johnson's Optimus Prime is generally used as a tank or initiator.
X.Borg's Bumblebee is generally used as a fighter or jungler.
Roger's Grimlock is generally used as a fighter or jungler.
Granger's Megatron is generally used as a marksman or jungler.
Popol and Kupa's Soundwave and Ravage are generally used as a marksman or jungler.
Aldous's Starscream is generally used as a fighter or jungler.
Each skin has its own special effect and stunning animation, so if you are spending money on any of this, you will not regret it.
Mobile Legends x Transformers: Event Guide
Certainly, the Transformers event is back, but for a limited time. Players can now access it only from the advanced server. They must keep in mind that to fetch the skin, players need to be using the Bingo event format, and that will not give you the particular skin you wanted. But there is nothing to worry about; it is confirmed that after 10 draws, Roger's Grimlock skin is guaranteed. Or if you already have that skin, it will be replaced by a random epic skin or better skin. Players can also apply the premium supply from March 25 to March 27.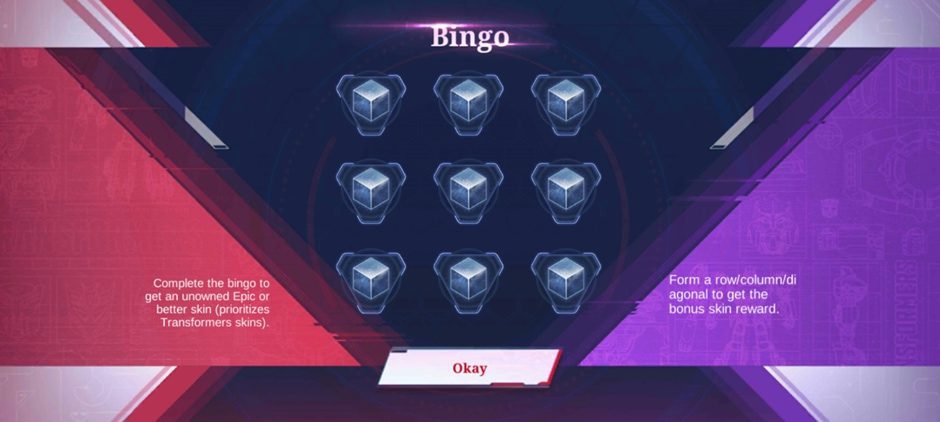 This event is worth spending money on. If you are planning to purchase starlight next month, then complete your recharge on March 25–27 to purchase diamonds. That will grant you a free draw. So just for 300 diamonds, you can buy a starlight subscription and side-by-side Roger's Grimlock (or an epic skin). And for the first 10 draws, there is a high chance of obtaining 4 normal skins and an epic or transformer skin.
Players get exciting rewards after specific draws during the event in Mobile Legends
If you are wanting to grab all those skins, it needs real-time money and luck both, but side by side, MOONTON Games will provide players some rewards after 5, 15, 25, 35, 50, 60, 100, and 120 draws, respectively. And to be honest, 50-120 draws are worth it. If we take a look at the prize pool, we can see that this pool contains an 11.11 Xborg skin, some awesome Collector skins, two light-born skins, and many epic and special skins. You can try your luck for that in case, after bingo, you don't get a Transformer skin, but this skin will fulfil the investment.
Now here comes the last part; it only has one phase; once it's gone, you cannot directly purchase the skin from the shop. Spend your money wisely and showcase the best skin you got from the event. Don't forget to collect bonus tokens. Try your luck in the first 10 draws, because those will be 50% off. And after the 60th draw, you will get a Transformer access code, which will also grant a Transformer skin from this Gacha event. Be sure to use it, because once the event has expired, it will also be removed from the inventory.
Are you excited as Mobile Legends x Transformers event is coming back? Let us know in the comments below!
For more Mobile Gaming news and updates, join our WhatsApp group, Telegram Group, or Discord server. Also, follow us on Google News, Instagram, and Twitter for quick updates.
The post Mobile Legends x Transformers Event Guide and Tips appeared first on GamingonPhone.