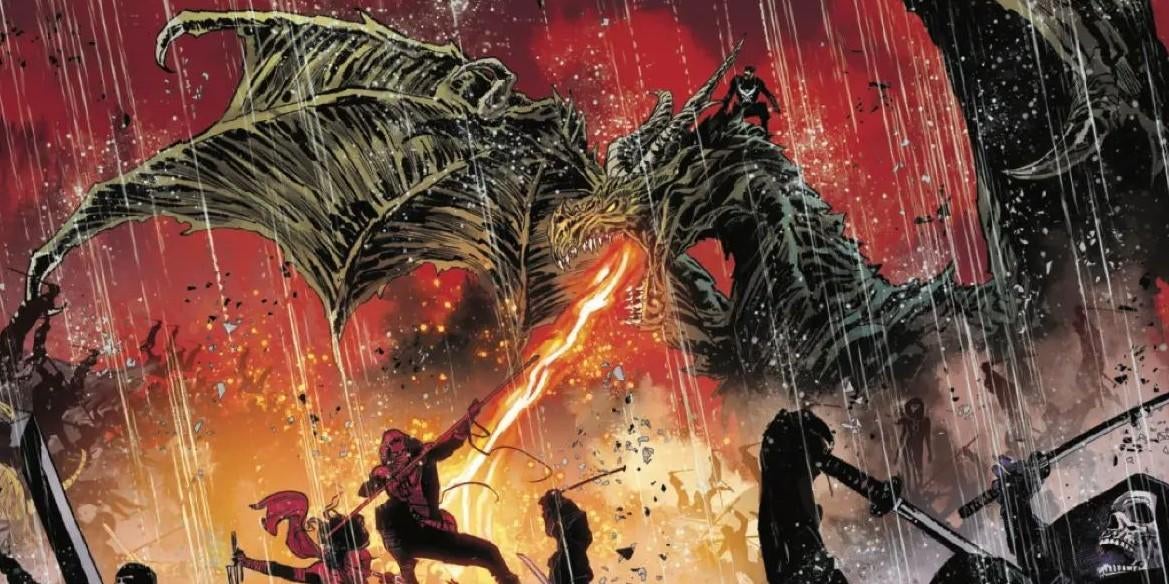 War has been brewing against Daredevil and The Punisher for months now, and the fight between the two Marvel characters is finally happening next week. Marvel Comics have released the first preview for next week's Daredevil #8, which includes the beginning of the brawl that the pair have been heading towards. The biggest takeaway from these first pages aren't the knock-down, drag-out fight that is clearly going to take up a lot of real estate in the issue, but the fact that Frank Castle is riding a dragon into the fight and is immediately coming for Matt Murdock. 
While The Punisher and Daredevil have been going back and forth with each other for decades, this time it's different. The latest volume of Daredevil comics from writer Chip Zdrasky has seen Matt Murdock renounce his name and commit to being the Man Without Fear full time. He's also departed the streets of New York City in favor of an island hideaway where he, Elektra, and Stick, have all started The Fist. With this group the trio have set their sights on destroying the ninja death cult The Hand once and for all. To make things even more complicated, or perhaps interesting, the current leader of The Hand is none other than Frank Castle.
War is coming, and it's finally here. Oh, and to top it all off, The Avengers have both Daredevil and The Punisher in their sights too. Check out the full pages below and look for Daredevil #8 in stores next week.
Daredevil #8
At last…WAR!
LEGACY #656
Written by: Chip Zdarsky
Art by: Marco Checchetto, Matt Wilson
Cover by: Marco Checchetto
Page Count: 28 Pages
Release Date: February 8, 2023