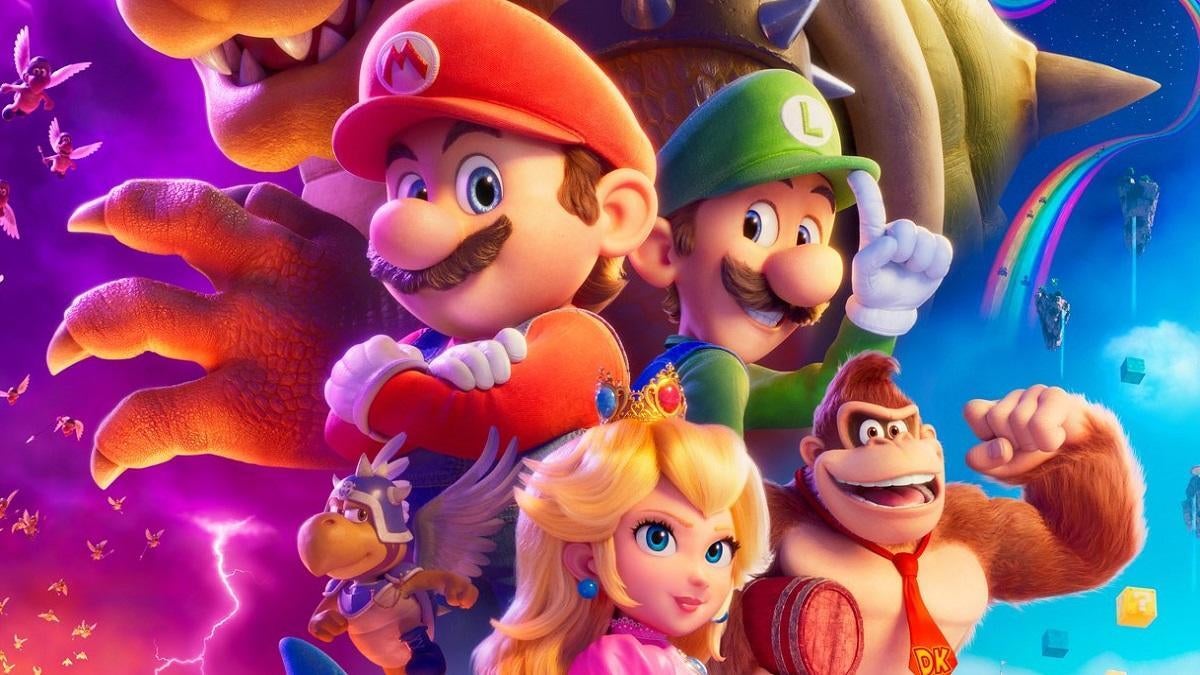 The Super Mario Bros. Movie got its official poster from Nintendo and Illumination this week ahead of the movie's April release date. The stylish, colorful poster features the same sort of template that's often seen in these kinds of multi-character posters with everyone from Toad to Bowser cascading across the ad for the movie. The film itself is scheduled to be released on April 7th, so we'll hopefully see more alternate posters like this one as well as other clips as we get closer to the release.
You can check out the official poster below courtesy of the Nintendo of America Twitter account which shared it on Friday. It shows Bowser, Mario, Luigi, a flying Koopa and Kamek, Donkey Kong, Princess Peach, and Toad. You'll catch a couple of other nods to the world of Super Mario in the background, too, such as the Mushroom Kingdom, Bowser's Castle, and Rainbow Road.
This is one of several posters that we've seen already for the movie, but it's the first one that brings all the characters together in such a way. Others revealed previously focused on individual characters, though it's likely we'll see more of those shared again as we get closer to the movie's release.
Check out the official poster for The Super Mario Bros. Movie! We're getting closer to the release, look forward to it in theaters soon! #SuperMarioMovie pic.twitter.com/7cFresSBmo

— Nintendo of America (@NintendoAmerica) February 3, 2023
Not long ago, we got another full trailer for the movie to show off more of Mario and the rest of his companions. Much of the buzz about the movie in the absence of things like that trailer and this new poster has come from brief clips and comments from the talent attached to the movie. Some voice actors have shared with fans early previews of what their characters will sound like, though considering how familiar people are with these Mario characters, it's easy to imagine that some people are taking a bit longer to warm up to the idea of such famous actors voicing these roles.
The Super Mario Bros. Movie is scheduled to come to theaters on April 7th. It stars Chris Pratt as Mario, Anya Taylor-Joy as Princess Peach, Charlie Day as Luigi, Jack Black as Bowser, Keegan-Michael Key as Toad, Seth Rogen as Donkey Kong, Fred Armisen as Cranky Kong, Kevin Michael Richardson as Kamek and Sebastian Maniscalco as Spike.