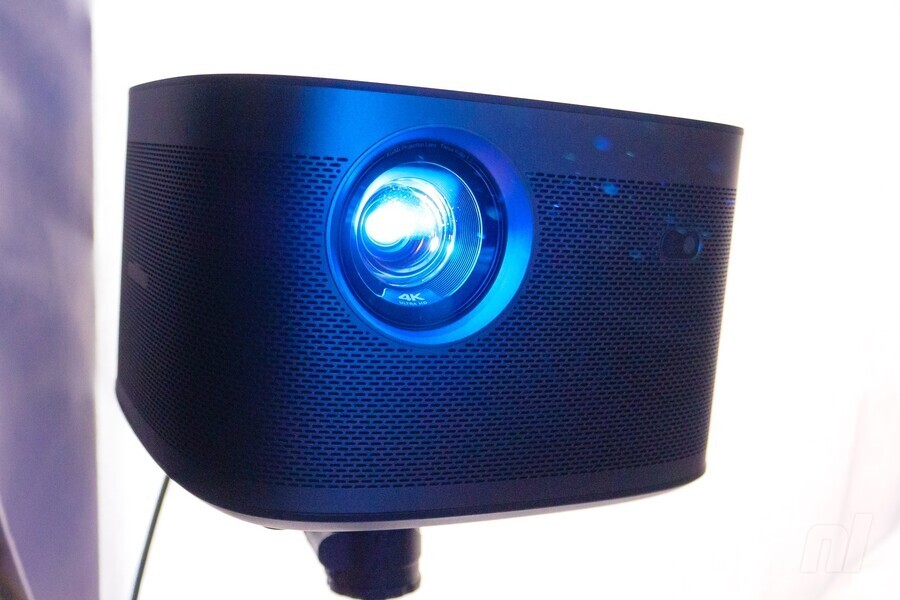 When shopping around for a new TV, it's easy enough to know what to look for and what questions to ask. What's the picture size and resolution? How many HDMI inputs does it have? Does it come with any smart features built-in? Is it HDR-compatible? But what if you're interested in a projector instead? What do you need to know then?
In the modern age, projectors are becoming more and more accessible with plenty of affordable options available online. However, these entry-level examples can be pretty tricky to understand. Some projectors claim to be 4K or even 1080p compatible when in reality they won't output a picture even close to that resolution. So doing some proper research and picking out the right one for you can really make a world of difference.
After having some fun with a few different budget-friendly projectors in years past (and also looking at things like the Switch-specific OJO Projector), we've been curious to try out something a bit more high-tech. Enter the XGIMI Horizon Pro. We've been fortunate enough to go hands-on with one of these for the past few months with our Nintendo Switch and we can certainly see the pros of investing in a projector of this caliber.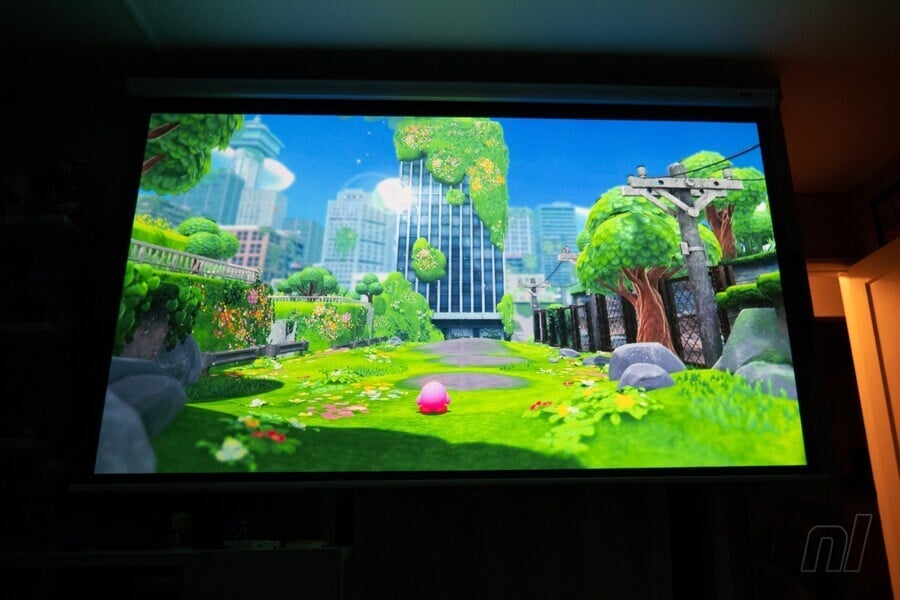 At first, the thought of setting up a projector correctly can be incredibly daunting, especially if you've never set one up before. The Horizon Pro was a cakewalk right from the get-go, however, thanks to features like Automatic Keystone Correction which automatically scans your wall for the optimal place to project an image, and fine-tunes the dimensions and angle to fit your space.
This means you don't have to rearrange your entire room to fit a projector, and you don't have to place it in the center of your room either. As long as you have a decent-sized blank wall or a place for a screen, you're given a wide range of freedom to place the Horizon Pro wherever you want and it'll work as intended.
Since the Horizon Pro uses Android TV as its operating system, you're able to easily download apps like Netflix, Hulu, Crunchyroll, Spotify, Disney +, YouTube, and more right from the Google Play store. There are two USB slots on the back of the box that can be used with external storage devices and you'll find two HDMI inputs as well that allow you to connect other devices, like your Nintendo Switch.
When it comes to gaming and projectors, latency caused by your wireless controller and the projector image itself can be a troublesome thing, but the Horizon series comes equipped with a Game Mode that you can toggle on in the image settings, and we highly recommend you use it. This Game Mode reduces the latency down to 35ms, and we never felt it impeded our gameplay sessions. Even when playing something with precision platforming like Super Mario 3D World + Bowser's Fury, controls were responsive and a very good time was had.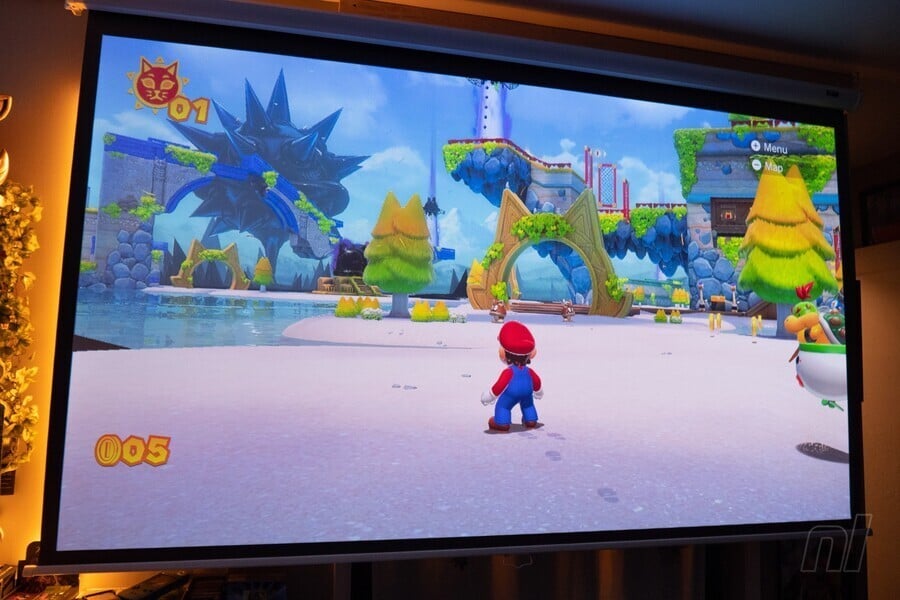 This is a 4K UHD native projector, meaning the image it produces will display in real 4K. You can adjust the picture size anywhere from 40 inches all the way up to 200, but you'll likely notice a drop in visual quality with anything over 150 inches. However, since the Switch isn't a 4K machine, the picture will look essentially the same regardless of if you're using the Horizon Pro, or the lower-priced Horizon model, which outputs at 1080p and even has a lower 18.2ms of latency in Game Mode. From what we could tell, those are the only major differences between the two different Horizon models on offer.
In our memories, catching a flick in theaters or studying a power point in class usually meant the lights in the room needed to be dimmed or turned off when using a projector. While you'll definitely get the best picture if you do the same with the Horizon Pro, you'll still get a decent image even if you just can't escape the light thanks to the 2200 ANSI Lumens — that's a standardized measurement of light output for projectors, by the way — that this projector packs. It also supports HDR 10.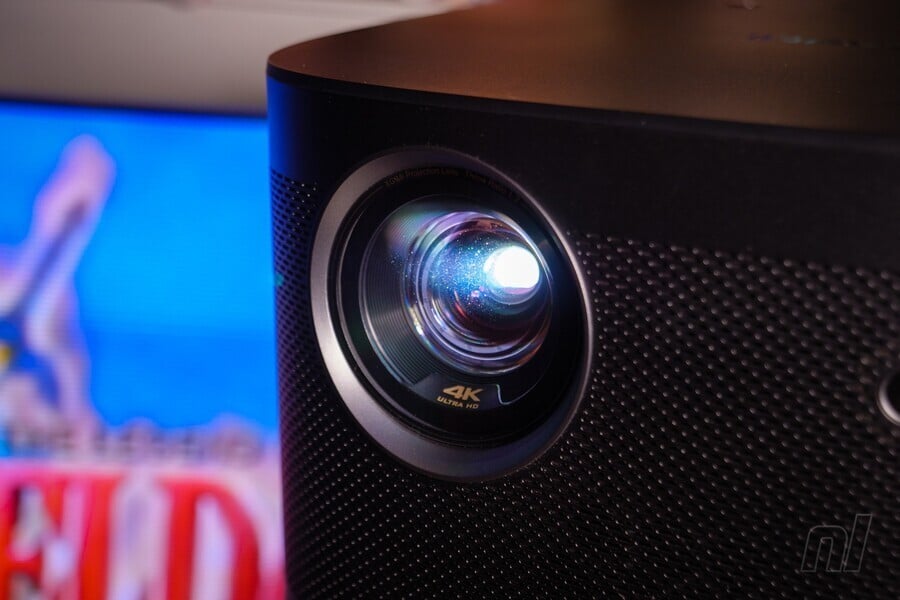 Included inside the box you'll find a Bluetooth remote which gives you access to basic power options, volume adjustments, menu access, and the ability to quickly recalibrate your focus with the touch of a button, which we found incredibly handy. The remote itself has a weighty and premium feel, being made of aluminum and using two AAA batteries for power. Although you'll find power, play/pause and volume buttons on the top of the projector as well, we opted to use the remote as we noticed we'd occasionally offset the projector on our small tripod every so often when we nudged it. This was easily remedied with the Auto Keystone Correction feature we mentioned earlier, though.
The Horizon Pro is an incredibly sleek and modern-looking piece of tech. The exterior is built mostly of aluminum, with lots of little holes for the built-in speakers to push audio through, and its fans are incredibly quiet. The top and bottom use a matte finish plastic, so there's no need to worry about fingerprints like there was with the glossy sheen found on something like the Wii U. For a projector boasting so many high-quality features, we're surprised by how small the device is, as well. There is a fairly hefty power supply that's needed to power the device, but beyond that, the projector is only a little larger than a GameCube.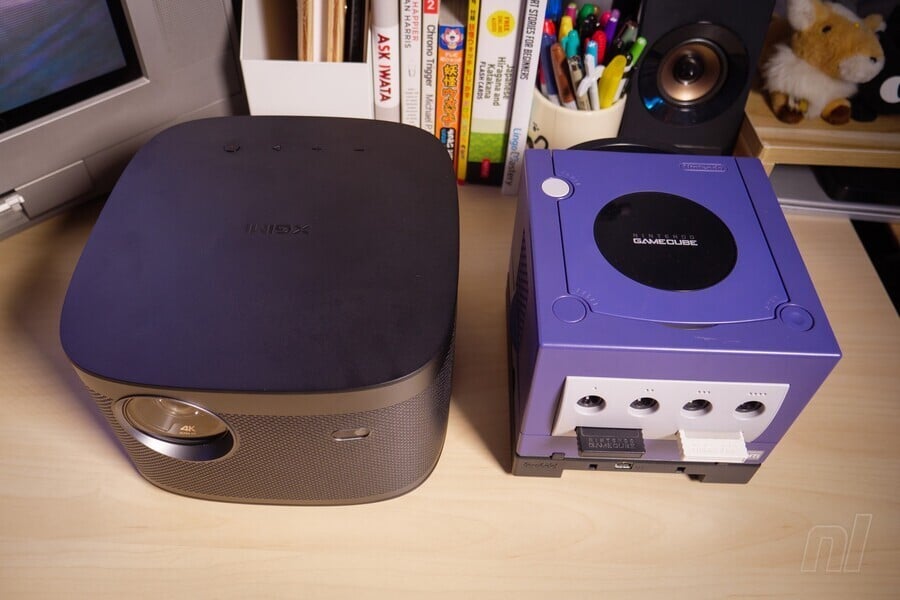 You can pull a lot of sound out of the two eight-watt Harman Kardon speakers smashed into this unit, too. The bass levels are impressive for the size and you'll get some decent range. However, you do have the option to use external speakers either wirelessly through Bluetooth or with the 3.5mm headphone and/or optical port found in the back.
We do recommend looking into some sort of separate speaker option, as it felt a little unnatural to have all of our audio coming from one 'off-screen' location, especially since ours was sitting in the back corner of the room. Maybe if we placed the projector more centrally, or mounted it to the ceiling (using the standard tripod-compatible mounting thread located on the bottom of the projector), the sound would bounce around and fill up our space a bit better.
We did find it odd that the Horizon Pro doesn't come with any way to protect the lens when it's not in use. In the past, XGIMI has utilized built-in motorized lens covers, so we were disappointed to see they didn't bring back this feature or even include a detachable lens cap.
The Horizon Pro has a suggested MSRP of $1,899.00, but we've noticed it does often goes on sale for less. When you compare this to other projectors of similar quality on the market, the price isn't too outlandish, but it's still a lot of dough to consider when you could alternatively spend the same money on a Switch, a library of games, and a perfectly nice TV to fit your room. Assuming you're in the market specifically for a projector, though, this is a high-quality and convenient solution.
Conclusion
If you're dabbled around with more budget-friendly projectors in the past and are looking to bring home a more premium theater-style experience, the Horizon Pro by XGIMI is a fantastic piece of kit — a 4K UHD projector with Switch-friendly low latency and Android TV functionality built-in allowing you to use your favorite streaming services right out of the box. The Auto Keystone Correction feature is a game changer for those who want a home theater setup without having to rearrange their entire living space. Beyond a couple of minor disappointments, this is a great option if you're after a gaming-friendly projector.
---
Thanks to XGIMI for providing the Horizon Pro used in this review.