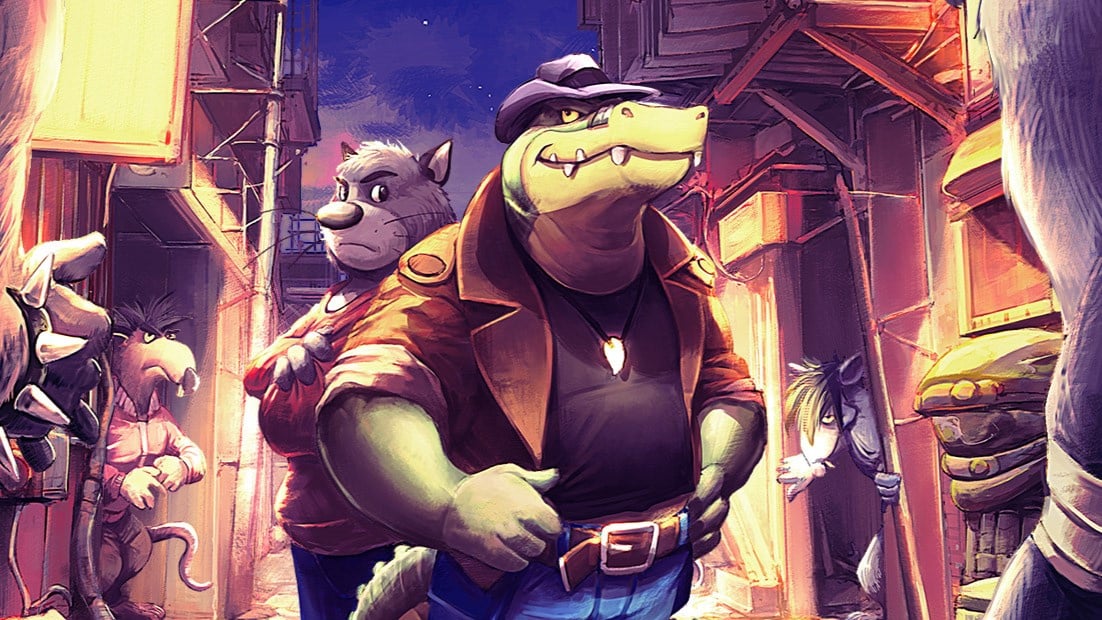 Developer Cowcat has revealed that the "Punch & Click" game (the first ever, according to the developer!) BROK the InvestiGator will be launching on the Switch eShop on 1st March following its Steam release last year.
This unusual mash-up of side-scrolling beat 'em up and point-and-click puts you in the shoes of Brok, an alligator with a penchant for kicking butt and solving crimes. With colourful Saturday morning cartoon visuals (the game was partially inspired by The Disney Afternoon) and puns galore, we can't wait to see how everything gels together in what looks like a charming little adventure.
Here's a rundown of some of the game's features from Cowcat:
A deep and emotional narrative-rich experience filled with characters reminiscent of classic 80s/90s cartoons. The first game to combine a "Classic Adventure" with "Beat'em up" and RPG elements!

– Solve puzzles with your wits… or muscles!
– Make choices impacting gameplay and/or story
– Easy mode for pure "Point & Click" gameplay (fights can be skipped)
– Level up to beat enemies and bosses
– Combine clues to uncover the truth!
– In-game hints
– All controls supported (mouse, keyboard or controller)
– Two playable characters, switch at any time
– 15 to 20 hours long on a first playthrough
– Multiple distinct endings to unlock
– Text fully translated into 10 languages
– Full English voice acting (23,000 lines)
We're loving this recent rise in gator-starring video games. Brok joins Lil Gator Game and Later Alligator, two other snappy little fellas, on Switch in just under a month. Just in case you wanted to fill out your Nintendo Switch alligator collection.
BROK the InvestiGator launches on 1st March for £21.99 / $24.99. Will you be downloading the game? Get snappy in the comments!